Immunizations at White Oak Pediatric Associates
White Oak Pediatric Associates follows the immunization guidelines recommended by the American Academy of Pediatrics (AAP). For information about these vaccines and the diseases they protect against, please visit http://www.aap.org/healthtopics/immunizations.cfm
For detailed informational sheets published by the Centers for Disease Control (CDC) please visit www.cdc.gov/vaccines/pubs/vis/
Our Vaccine Philosophy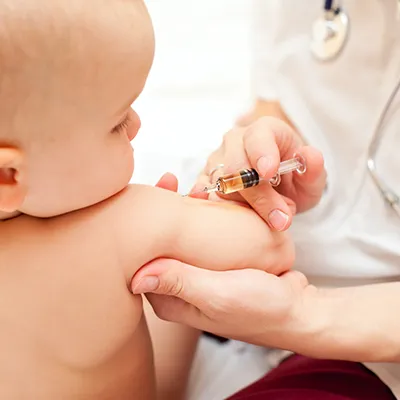 Our practice in Raleigh, NC believes that all children should receive the recommended vaccines according to the guidelines provided by the AAP and the CDC. Vaccines are safe and effective in preventing diseases and health complications in children and young adults. Regular vaccinations help children ward off infections, and are administered as one of the safest and best methods of disease prevention.
We are happy to discuss your concerns about vaccines at your child's next visit in Raleigh, NC.
Recommended Immunization Schedule
0-6 Years -Schedule for Persons Aged 0 Through 6 Years | 2015
7-18 Years-Schedule for Persons Aged 7 Through 18 Years | 2015
Catch-up Schedule -Schedule for Persons Aged 4 Months Through 18 Years Who Start Late or Who Are More Than 1 Month Behind | 2015
Resources
Vaccine Safety: The Facts Safety facts on vaccines from the AAP
Vaccinating Children Against Chickenpox
Varicella (chickenpox) vaccine is given to children 12 months of age and older, which has resulted in a significant protection from the disease for infants as well. Before the U.S. began vaccinating children 12 months of age and older against varicella in 1995, infants were four times more likely to die from a varicella infection compared to children ages 1 to 14 years. Many states require that children entering day care or school get immunized against chickenpox unless they can show proof of immunity through blood test results or having had chickenpox.
Chickenpox is a common childhood disease that is usually mild, but it can be serious, especially in young infants and adults. Chickenpox can also:
Cause a rash, itching, fever, and tiredness
Lead to severe skin infections, scars, pneumonia, brain damage, or death
Be spread from person to person through the air, or by contact with fluid from chickenpox blisters
Cause a person to develop a painful rash called shingles years later
How Safe are Vaccines?
If you believed everything you heard on TV talk shows or read on the Internet, you might never allow your child to become vaccinated. However, vaccine opponents often exaggerate or even make up immunization risks, with no specific evidence to support their claims. Panels of experts have confirmed again and again that today's vaccines are safer than ever. In fact, the great risks come when a child is not immunized.
Before a vaccine is ever approved and licensed, it goes through years of testing for safety and effectiveness. Both the American Academy of Pediatrics (AAP) nor government agencies like the Centers for Disease Control and Prevention would not recommend a vaccine that had not passed the tests for safety and effectiveness.
As a responsible parent, it is important for you to be fully informed on the vaccines offered for your child. If you have any questions or concerns, you can talk with your pediatrician in Raleig, NC.
Is it time for your child's Immunizations? Call White Oak Pediatrics in Raleigh, NC at (919) 787-0266 today to make an appointment.